Skylights provide rooms with a brighter, more open and airy feeling often not possible with standard windows. Skylights, however, don't help with naptime and have the potential to let sunlight overheat your rooms in the summer and the heat to escape in the winter. At Hunter Douglas we have product solutions made especially for skylights.
Simplicity
Our SimplicityTM skylight system, available on our Duette® and Applause® honeycomb shades, is a manual lifting system specifically manufactured for rectangular windows and especially suited for skylights.
For greater control of overhead sun, these skylight systems bring the light diffusion and energy efficiency benefits of honeycomb shades to skylight openings
Greater light diffusion means you'll experience less glare on television and computer screens
Side-by-side mounting of shades allows for coverage of windows measuring more than 48 square feet
Skylift
Our SkyliftTM skylight system, also available on our Duette and Applause honeycomb shades, is specifically suited for skylights, and is offered in both manual and PowerViewTM Motorization. SkyLift is perfect for very large windows.
Available in 3/8″ semi-opaque and all 3/4″ fabrics, including Architella®, for increased energy efficiency
SkyLift with manual operation offers a hand crank or telescoping pole for hard to reach windows
Call Us For Special Toronto Deals: Night And Day Window Decor – Contact Page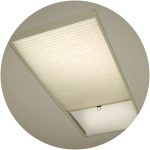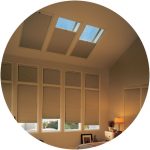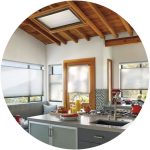 Availability
Skylight applications are available on these Hunter Douglas products:
As with all specialty shapes, you should consult with your local Hunter Douglas dealer when deciding which product will work best for your skylights.