When we think about the ocean we visualize a clean, vast blue body of water, occupied with a variety of sea creatures. Unfortunately, that is not the condition of a majority of our oceans. We are facing the reality of our water systems being filled with grocery bags, bottles, straws, microbeads and every type of plastic waste one can imagine. The presence of these items in the ocean can be harmful not only to us but the sea animals, who become trapped in some of this waste.
Wouldn't it be awesome then to be able to collect, and re-use this plastic in a brand new product? How about a durable fabric to be used in making custom window shades? This is exactly what some clever engineers in partnership with the largest window covering manufacturer in the world did. We are very excited to present to you, a window roller shade fabric GreenScreen Sea-Tex™,  the world's first sunscreen roller fabric made from 50% recycled ocean plastic waste. With GreenScreen Sea-Tex™, Hunter Douglas once again demonstrates its commitment to innovative and sustainable product development for the sun protection process. Here at Night and Day Decor, our decorators are happy to have such a great environmentally friendly and sustainable custom window treatment to offer to our Toronto home-owners.
–
A little glimpse on the work behind the scenes to make this exciting project a reality:
Hunter Douglas partnered with Bionic®, a mission driven material engineering company. With their assistance, they were able to fabricate a yarn, engineered from recovered coastal and marine plastic, which we know to be the key ingredient for the GreenScreen Sea-Tex™ shade fabric.
Besides the GreenScreen Sea-Tex™ being an award winning fabric, it is also Cradle to Cradle certified™Bronze, a globally recognized measure of safer, more sustainable products made from the circular economy.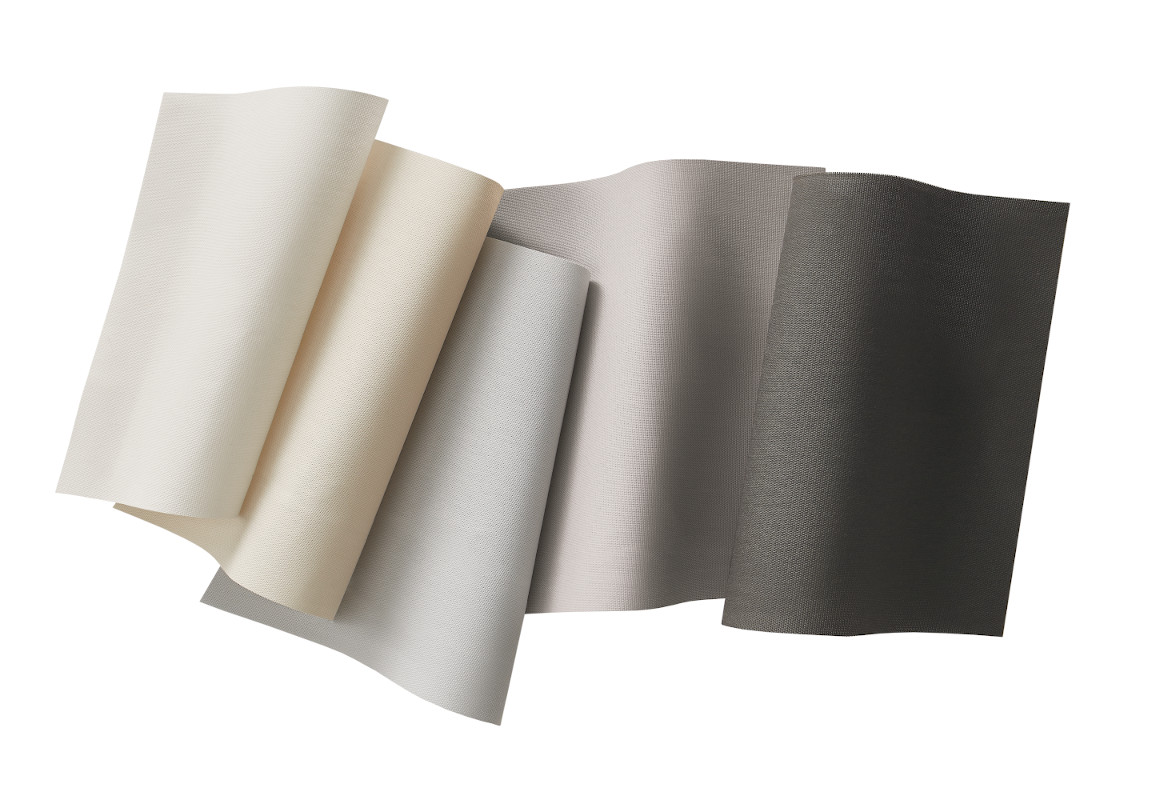 Functional, affordable and desirable, the GreenScreen Sea-Tex™ collection is part of the larger Hunter Douglas Designer Screen Shades line. It has been expertly crafted to provide light filtration and UV protection while maintaining the view outside. The full GreenScreen line features 67 fabrics, and the Designer Screen Shades range from 14% to 0% openness, to perfectly complement any style or decor.
You may not know this, but the roller shade fabrics in the Hunter Douglas Designer Screen line also provide UV protection for furniture, flooring and art, while beautifully filtering light into the space. This way, the need for artificial light is minimized. In addition to that, the shades provide a layer of insulation at the window to keep heat out during the summer and during the winter. This combo is perfect for energy saving in your home.
With the launch of this roller shade fabric, Hunter Douglas hopes to bring awareness to the global issue of plastic ocean waste that endangers our oceans and sea life each year.
For more details on GreenScreen Sea-Tex™, the entire process and initiatives, you can find them on the links below:
https://www.hunterdouglas.com/stories/press-release-greenscreen-sea-tex
http://www.hunterdouglascomponents.com/en/news/2018/04/01/greenscreen-sea-tex/
To get your custom window treatment project started, please get in touch to visit one of our three Toronto showrooms privately, or schedule a consultation.
We are located at:
990 Kingston Road in the Kingston Road Village/Beach
1075 Yonge Street in Rosedale/Summerhill
10 Clock Tower Road, Shops at Don Mills